Lets get ready to ride horses in St. Croix!
WHAT TO WEAR:  Shorts, capris or leggings are best for horseback riding in the warmer weather here . Cotton will be much cooler and much more comfortable than jeans. The rest is up to you, just make sure you wear things that can get wet as we may end up taking the horses for a swim if you'd like.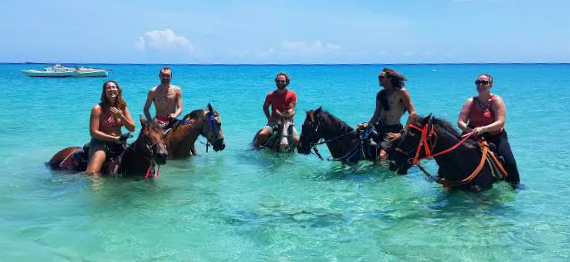 WHAT TIME: Just show up at your scheduled horseback riding time. This is an island and "Island Time" is acceptable, a few min early or late is OK.
Your ride will last between 1.5 to 2 hours long.
WHERE WE MEET: Rhythm's at Rainbow Beach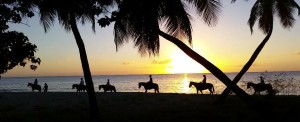 We do our best to help you take pictures of your horseback riding adventure, so feel free to bring along your camera but make sure you also bring something waterproof t o put in in when we go into the water. There are restrooms at Rhythm's for you to use, and they also have a full bar and serve meals. The beaches on the West End are not only great for horseback riding,  they are the most beautiful on St. Croix and offer among other things: sunbathing, snorkeling, swimming, paddle boarding, jet skis fly boarding and the most amazing sunset views!
CALL OR TEXT TO BOOK YOUR TOUR TODAY!
(340)690-7433